Our cakes are all home made using the best ingredients, which include free range eggs, real butter and fresh fruit where applicable. At £2.95 for a proper sized slice they're a real bargain too, you can even take some home for later if you don't have enough room now! If you have a special occasion and need something to wow friends and family, we can personalise an entire cake with a special message, just give us 48hrs notice. Alternatively if it's not a special occasion but you just have a lot of mouths to feed, we can simply supply a standard cake in a presentation box for you to take home or back to the office.
Blueberry and Vanilla - £29

My personal favourite, fresh blueberries complemented by the sweetness of vanilla, a match made in heaven.
Choc Fudge - £29

Rich and very chocolaty with 3 layers of the moistest sponge you will ever eat!
Victoria Sponge - £29

They don't come any more traditional than this one and we haven't changed a thing, just like your grandmother used to bake.
Coconut and Lime - £29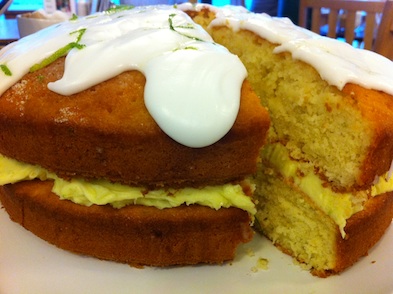 As well as using fresh limes we even put coconut into the sponge for a really unique texture.
Coffee and Walnut - £29

You guessed it, real nuts and fresh espresso from our very own beans go into this favourite!
Carrot cake - £31

Made to traditional recipe this cake has so many good things squeezed into it that it could almost count as one of your five a day!